On Sep. 12, 2017, the monthly management working meeting of Haixin Group was held on the 11th floor of the Group headquarters. About 26 people including Group leaders and the heads of various sectors attended the meeting.
This meeting is a monthly regular meeting. The CFO Office reported the operating data of August, the Disposal Office reported the accounts receivable and inventory disposal conditions, the Pharmaceutical Division informed the recent work progress, and the leaders of the rest various sectors reported the recent project progress and work completion situations. Yu Feng, vice chairman and party secretary also attended the meeting.
According to the analysis of the CFO Office, the textile enterprises' operating income and net profit continued to maintain a dual growth pattern, the closed and stopped enterprises contributed to the profits, the enterprises being closed and stopped significantly reduced the losses, but the inventory disposal efforts should be strengthened, and the pharmaceutical distribution enterprises faced a decline in income due to policy impact.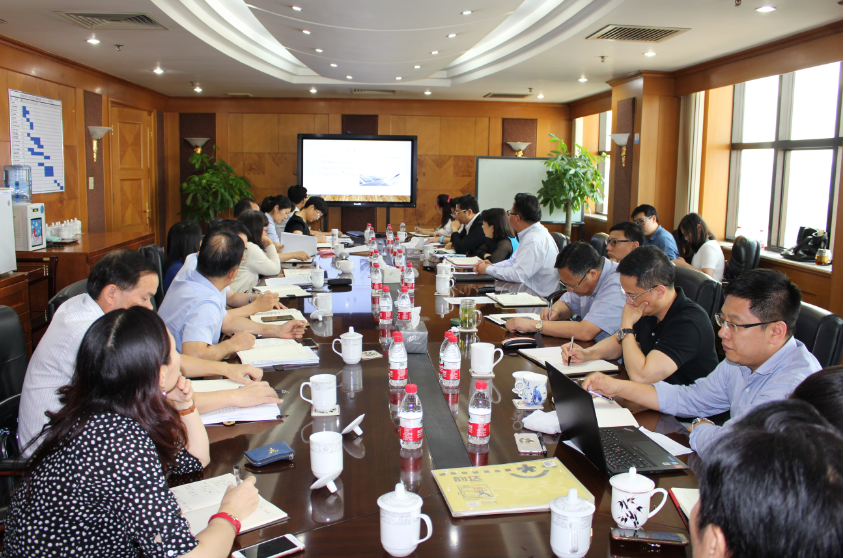 Ying Zheng, president of the Group, made a summary statement in combination with the reports by the responsible persons of the sectors. He analyzed the current problems in the work and the projects that need to be strengthened and expressed appreciation for the achievements made by the Group in August. The Disposal Office actively solved the problem of Suzhou Toy Company, carried out multi-party communication and turned loss into gain, which should be commended. The projects of the pharmaceutical sector were also in the process of active advancement, and were hoped to be able to have a breakthrough. Some subsidiaries should attach a great importance to the hidden dangers of security and actively rectify them to ensure the zero accidents in the production.
President Ying not only summed up the operating results of last month, but also carried out an objective analysis of unique uncertainty of several projects. However, he pointed out that as long as all staff firmed confidence, made full use of all available resources, and united and went forward, we could overcome difficulties and complete any challenge. He hoped that the leaders in charge of specific duties and departmental leaders actively solved the problems in the contents under their own management, implemented the projects and ensured the completion of the objectives set at the beginning of the year.